| | | |
| --- | --- | --- |
| About the Museum | | |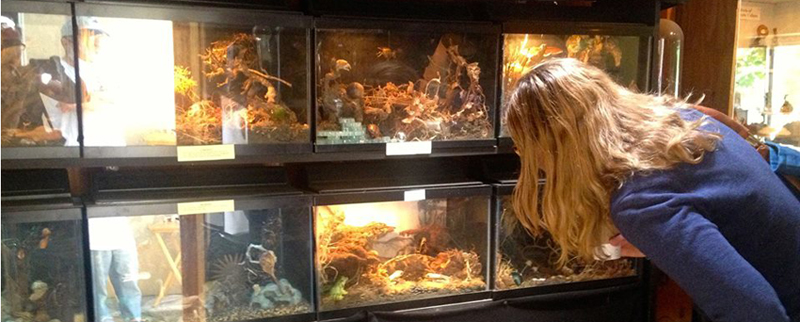 Obscura Society visit, 2013/photo: Annetta Black
The Zymoglyphic Museum is the world's only repository for the study and display of art, artifacts, and natural history of the Zymoglyphic region. In addition, the museum hosts a variety of special collections and online exhibits related to the museum's themes of natural art, celebration of decay, and museums as curiosity cabinets.
After welcoming visitors for a decade and an half, the original museum site in San Mateo, California is now closed as the museum migrates to Portland, Oregon. Its new location is 211 SE Madison #20, under the Hawthorne Bridge. For open times, see the events page.
Contact the museum to be put on the mailing list for any updates,
follow on Facebook, or
peruse this Web site for a virtual tour!
What is it? A self-museum, a cabinet of curiosities, no, make that fishtanks of curiosities, with lots of little eyes secretly staring at you, and organic matter arranged into beings with souls.

The world's finest collection of artistic detritus

Today I discovered I'm a zymoglyphile...I'm chuffed pink to have found the proper name for my condition

Judith Hoffman
Upcoming, ongoing, and past

"What does 'zymoglyphic' mean?"

and other mysteries explained
The evolution of the museum from a 10 year-old boy's collection of rocks, bird nests, fossils, arrowheads, and marine animals
Reactions to the museum from visitors both physical and virtual
Artists and writers inspired by the museum and its collections

Photographs of the museum taken by Judith Hoffman, artist-in-residence
A gallery of photographs taken by museum visitors
Poems, sketches, and art inspired by the museum's collections

Artist's statement, resume, manifesti, and an imaginary guestbook
Museums, libraries, esoteric societies, etc.
Disclaimers and legal amusements
This site and all photographs copyright 2000-2015 by Jim Stewart, except where otherwise credited
Some portions may or may not be works of fiction and should not be used for factual reference without independent research
Any exposure or depiction of human genitalia, pudenda, or secondary sexual characteristics is for educational, artistic, or entertainment purposes only, with no prurient intent, expressed or implied. While such depictions do exist on this web site, viewers are further cautioned that they are rare and may be difficult to find.
No animals were harmed or killed in the making of the exhibits except for some ants and some pesky little beetles that were caught trying to dismantle portions of the exhibits they deemed edible.
The term "Zymoglyphic" is a trademark of The Zymoglyphic Museum, its subsidiaries, heirs, and assigns, and may only be used when referring to the Museum or to the Region it claims to represent. "zymoglyphic" (all lower case) may be used as an adjective to describe any person, place, thing, or idea related to the themes of the Museum, although Museum management claims final moral if not legal authority to determine what is and is not truly "zymoglyphic."
Links to books and DVDs in the museum shop are provided in association with Amazon