Museum to be Open to the Public May 20-21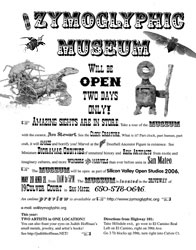 The Zymoglyphic Museum will be open to the public May 20th and 21st as part of Silicon Valley Open Studios!
For a formal invitation to the festivities in PDF format, click
here
.
Previous visitors will be pleased to note that there have been a number of new acquisitions since the last opening a year ago. These include five new artifacts, two curiosity collections, and a set of acrylic paintings. In addition, the museum's recently expanded crab collection will be on display. You may refer
here
for a preview of the recent acquisitions.
Also on site will be the delectable metalwork and artist's books of
Judith Hoffman
You may wish to make your visit part of a more comprehensive tour of the Peninsula's Open Studios. Click
here
for information. Tour maps and catalogs will be available at the museum.
-- The museum staff