Viewing Stones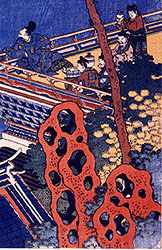 There is an ancient tradition in the Orient of collecting and displaying certain stones that seem to contain worlds within them. In Japan, these stones are known as suiseki. Suiseki are usually flat-bottomed stones set in form-fitting carved wooden trays. They often look like miniatures of mountain ranges, waterfalls, or other natural features. In China, however, the preferred stones have fantastic, cloudlike shapes, with swirls and myriad caverns to excite the imagination. The difference is so distinctive that when the 19th century Japanese woodblock artist Hokusai wanted to indicate that his scene was set in China, rather than Japan, he used large rocks with impossibly large holes in them, as shown here.
Chinese rock selection is known as gongshi. Stones can be of a size to be viewed indoors, or they can be mounted in gardens. Some are up to nine feet high. The basic art of gongshi consists of choosing a rock, positioning it in just the right way, and framing it by putting it on a stand. Many stands are quite elaborate. In addition to stone, gongshi may be made of other materials, such as roots or coral.
The Zymoglyphic Museum's collection of miniature viewing stones consists of seaworn "rocks" that resemble the classic gongshi of China.
For further information on viewing stones, see the excellent book by Kemin Hu, The Spirit of Gongshi: Chinese Scholar's Rocks, Richard Rosenblum's Art of the Natural World, and these links: